Day 2, May 12, 2009. Lava Hot Springs, Idaho to John Day, Oregon.  452 Miles.
The next morning I noticed that one of the screws had fallen off of the passenger backrest; I needed to replace it before heading out or else the whole backrest would vanish somewhere along the way. Walking around town, I found a busy but unassuming restaurant with a lot of pickup trucks parked outside.  According to conventional wisdom, that's the clue for a great place for breakfast; go where the locals eat. I went in, and was greeted by sudden stares followed by silence from the patrons. Was it my age? That I was a stranger in town? My motorcycle pants and jacket? I sat down at the counter (yes, they had a counter) and told the guy next to me that I was riding to Oregon, that I thought Lava Hot Springs was really nice town, and wondered where I could find a metric bolt.
Ah, a metric bolt. After several of the regulars wondered why I wasn't riding a Harley, they finally decided that the place across the street was the most likely place to score a metric bolt, but it didn't open until 9.  So I went back to the motel, packed up and stopped by the shop.  Indeed, he had a metric bolt and it fit; he even put it on and didn't charge me.  The day was off to a good start.
It went downhill fast. I stopped at the rest area where US 30 meets the interstate, and discovered that Idaho has some really strange people: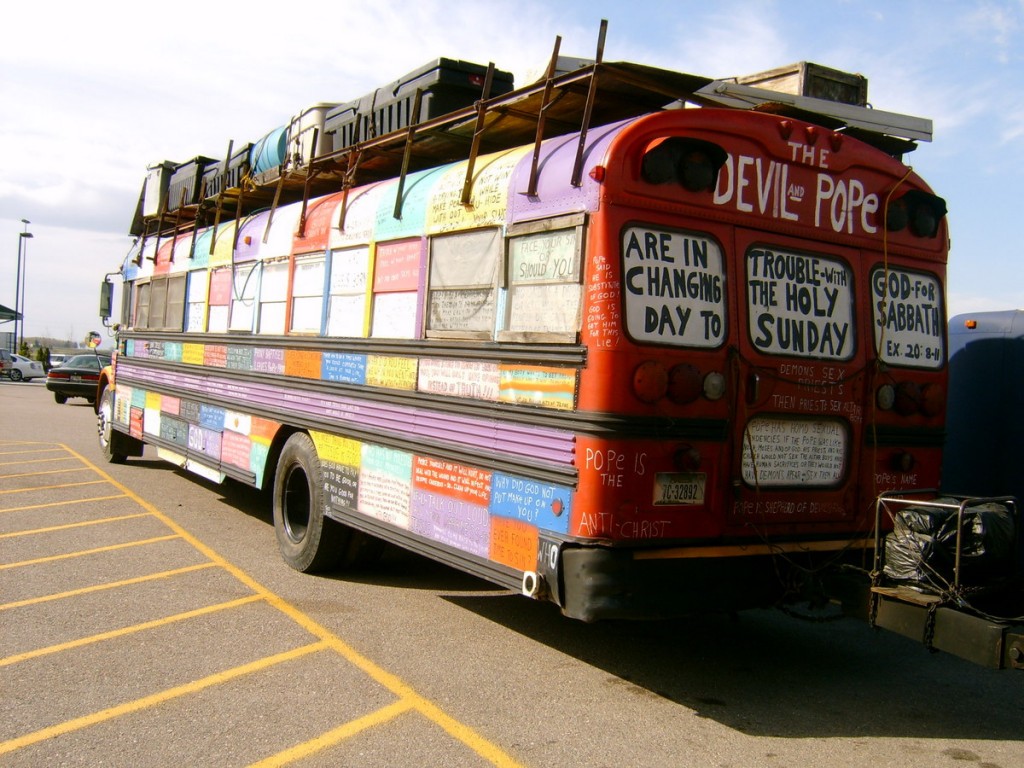 The road west to Boise is not very beautiful; to relieve the monotony I though I'd get off at Jermone and find the country's newest national monument, the site of the WWII Minidoka Japanese relocation center.  I wasted an hour driving around Jerome, Idaho, without luck.  In the course of the trip, I bounced around some potholes which – although I didn't know it – broke the ham radio transceiver that was beaming my location back to Georgia.
The wind picked up.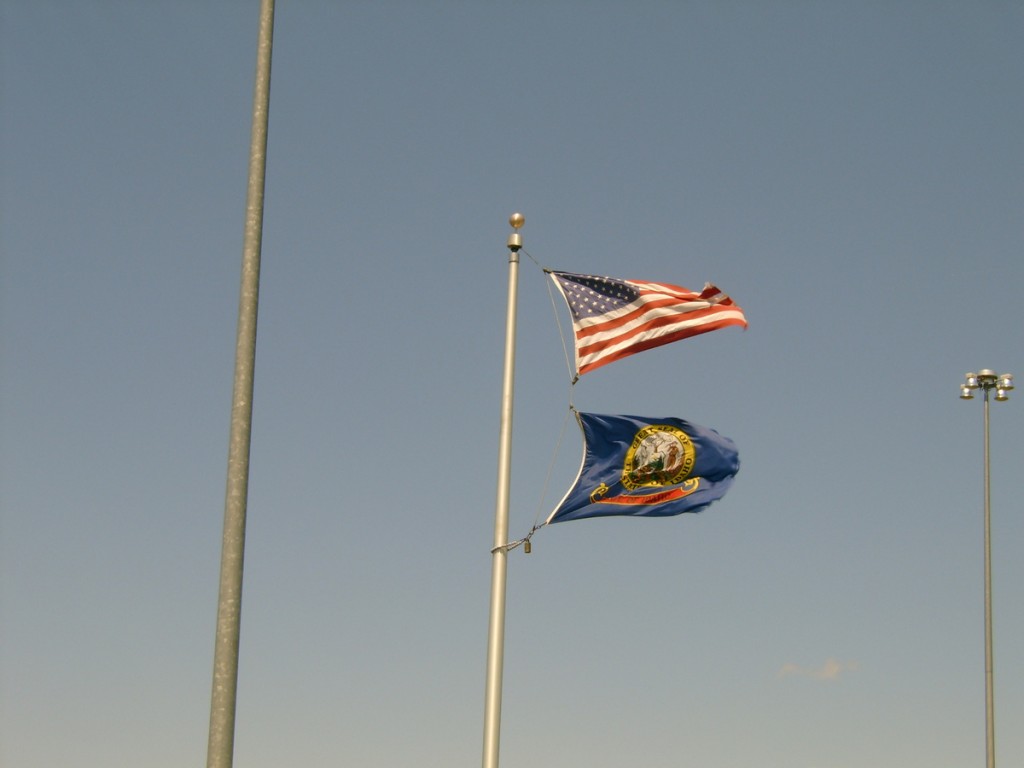 Even though my bike is heavy and pretty stable, the wind started to really get to me; the windshield whistled, and the bike was being buffeted from side to side. As I came down to the bridge over the Snake River gorge, I looked at the guard rails, which weren't all that high, and began to get very nervous. A truck driver behind me saw what was happening, flashed his lights at me, straddled the two lanes with his 18 wheeler, and slowed down to about 40 mph and drove with his blinkers on so that I could ride across the bridge in the middle of the interstate in some safety. Thank God. I like truckers.
Boise just before the rush hour is not a pleasant drive, and it's worse if there's massive construction. Had I only realized that Georgia's cousin's daughter lived nearby …
But onward to Oregon.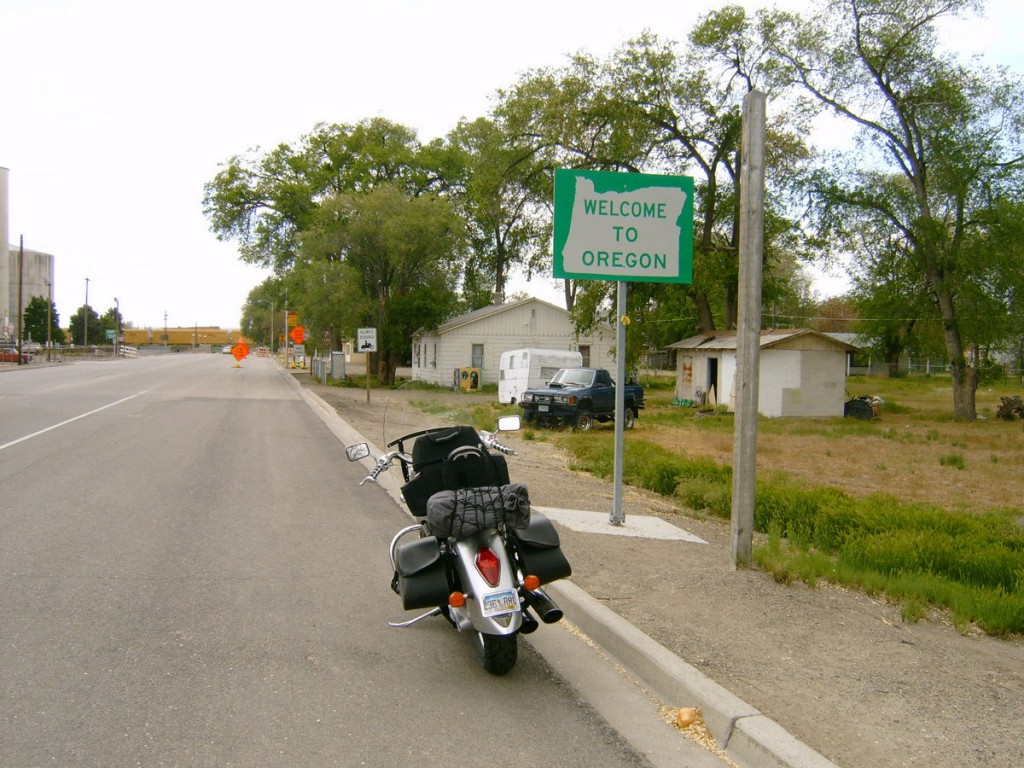 First state with mandatory helmet laws.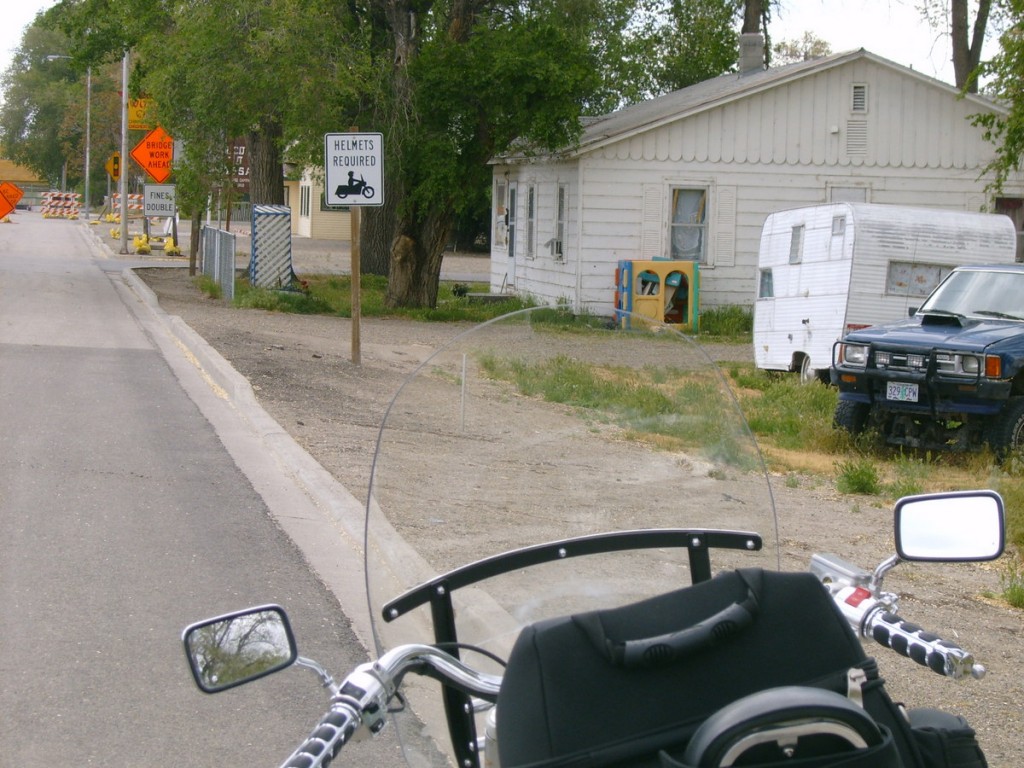 Oregon has a silly law that prohibits self service gas pumps. Instead of letting you do it yourself, you have to wait until some kid comes by, takes your credit card, and fills your tank. It's a really bad idea to let someone else fill a motorcycle tank, though, because they can easily scratch the chrome or overfill it and get gas all over your seat. So the law was recently amended; now the attendant has to run your credit card, turn on the pump, hand you the nozzle and stand by watching while you fill the tank. The kid at the first gas station in Oregon didn't know that, and managed to spill quite a bit on the gas tank.
It was getting late, but I still figured that John Day would easy to reach. Only one small mountain pass and about 175 miles. Piece of cake. Right.
The map of US 26 north from Vale shows several towns along the way. Well, they may have once been small towns, but now they're mere crossroads, with no people to be seen. It was getting colder, and there was an ugly black cloud ahead. And no cars. None. I stopped at one of the crossroads and put on my jacket liner and proceeded up the pass. Where it started to snow. Big, thick, wet flakes that stuck on the windshield, but fortunately not on the road. My pavement tires are not made with traction in mind. Pretty soon the highway ahead was invisible through the windshield, so I stood up on the floorboards – and got smacked by snow that covered my visor.
There was a campground ahead, and I stopped for about 15 minutes to warm up and regroup. In the only shelter available – the Forest Service toilet.
After a few minutes of seriously wondering why in the hell I was doing this, I got back on the machine and proceeded up to the crest of the pass and then down the other side.  Fortunately, the weather improved as I rolled down towards the faded old mining town of John Day.  I hadn't made reservations, and didn't need them, and picked a place based upon the fact that there were two motorcycles out front.  Bad choice.  From the goth high school girl at the front desk to the strong smell of antiseptic in the room, it was not good. But it was a bed.
I called Georgia, who was understandably concerned because I'd been out of cell phone range for hours and my ham radio tracking device showed my last location somewhere near Preston, Idaho.