I have been enjoying reading and vicariously living the ride reports on the Adventure Riders forum, and thought perhaps it would be time to try my hand at one of my own.
May 18, 2009 was a big birthday for my sister, and what better present to send her than — me!  It was a perfect excuse to take off from work (I would not officially retire for nearly a year) and visit her in Oregon.
It took some persuading, but Georgia was finally OK with it, and I packed up my motorcycle and got ready to take off.
Day 1, May 11, 2009: Rifle, Colorado to Lava Hot Springs, Idaho 452 Miles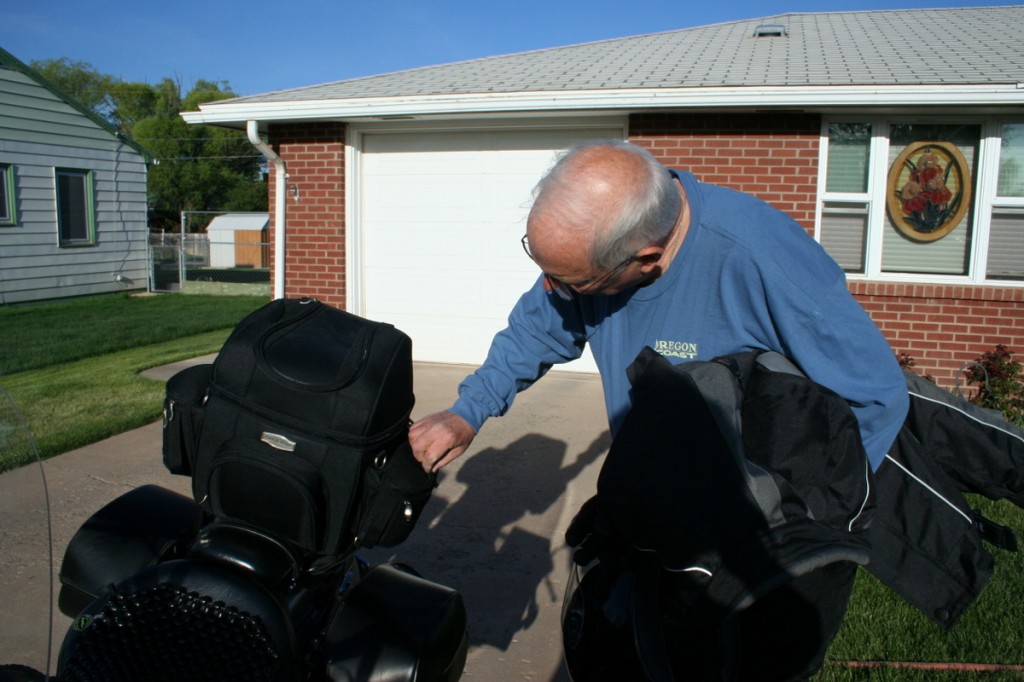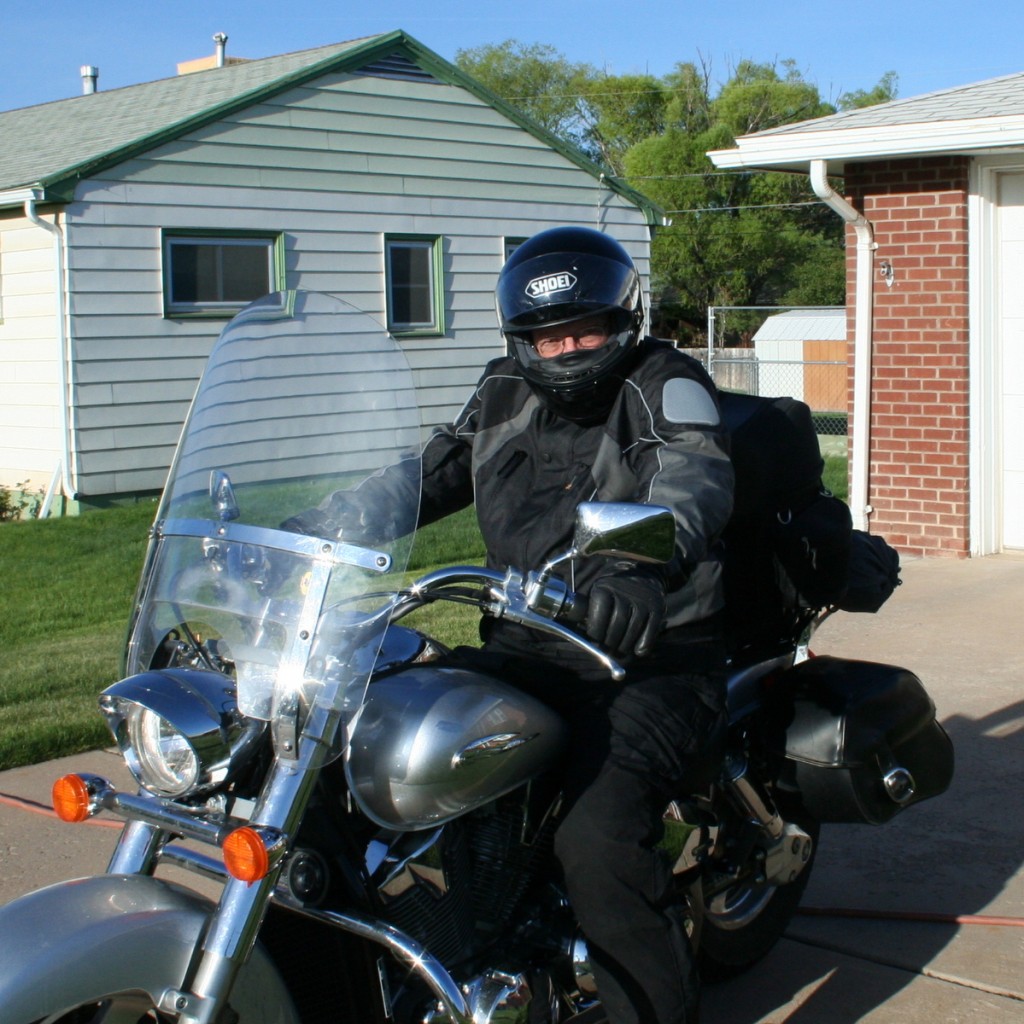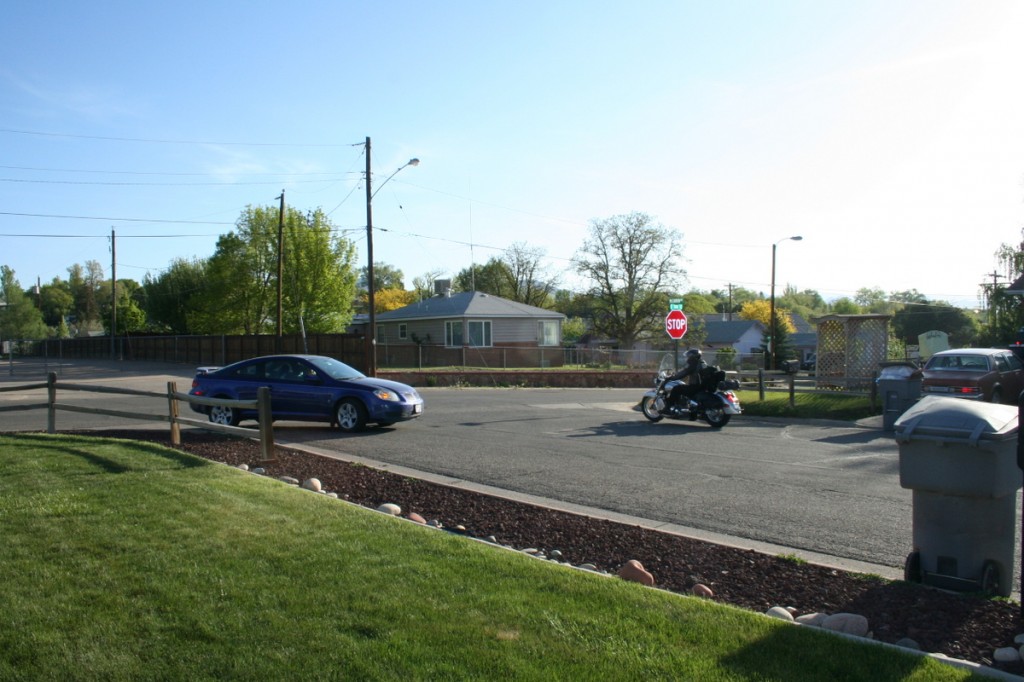 When Georgia took this last picture, I'm reasonably sure that she didn't think she'd ever see me again!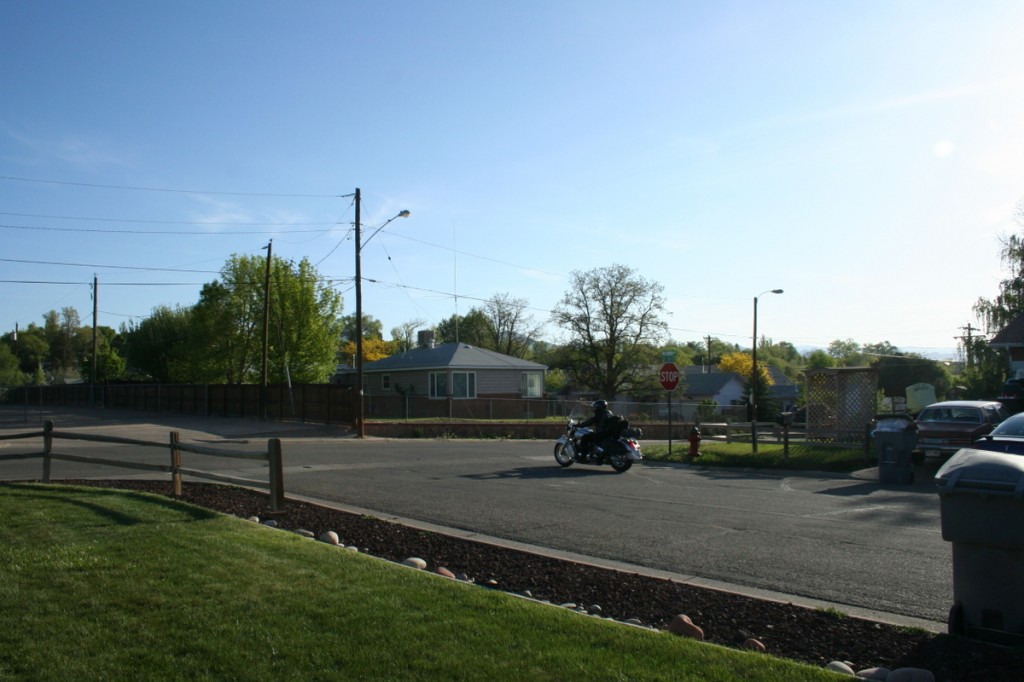 I wasn't too sure about it either; the longest trip I'd ever taken before then was to visit Danny and Tess Niemann in Pueblo, and I really didn't know how many miles were optimum for one days' travel, whether my motorcycle and body could handle it, etc.
Stopped for gas in Rangely. The VTX has a relatively small gas tank and a range of 120-140 miles. Which is just about right, because my body needs a break every couple of hours, too. Rode through Dinosaur, one of the cities Ed Sands represents, and soon entered the first new state, Utah: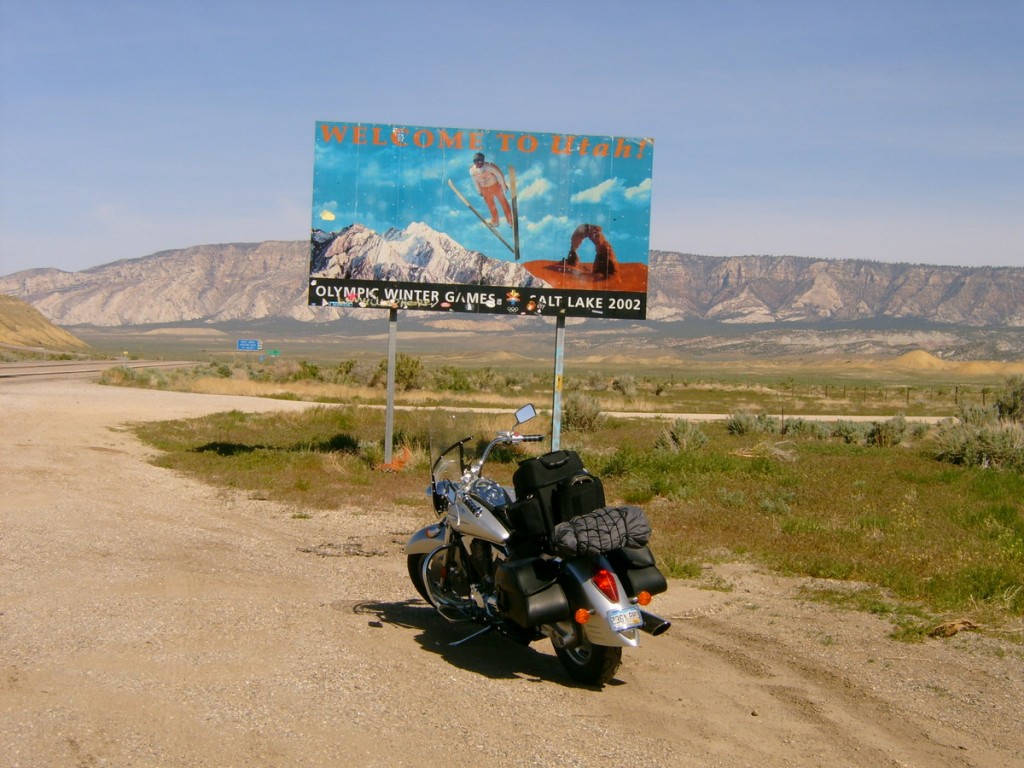 Blasted through to Vernal, passing the motel that I'd taken Terry, Jackie and Becky to visit so long ago. Then up towards Flaming Gorge Reservoir. The altitude went up and the temperature went down, and I saw a little snow along the way. Not good. Manila, Utah, was not very remarkable, so I went on and soon arrived in Wyoming: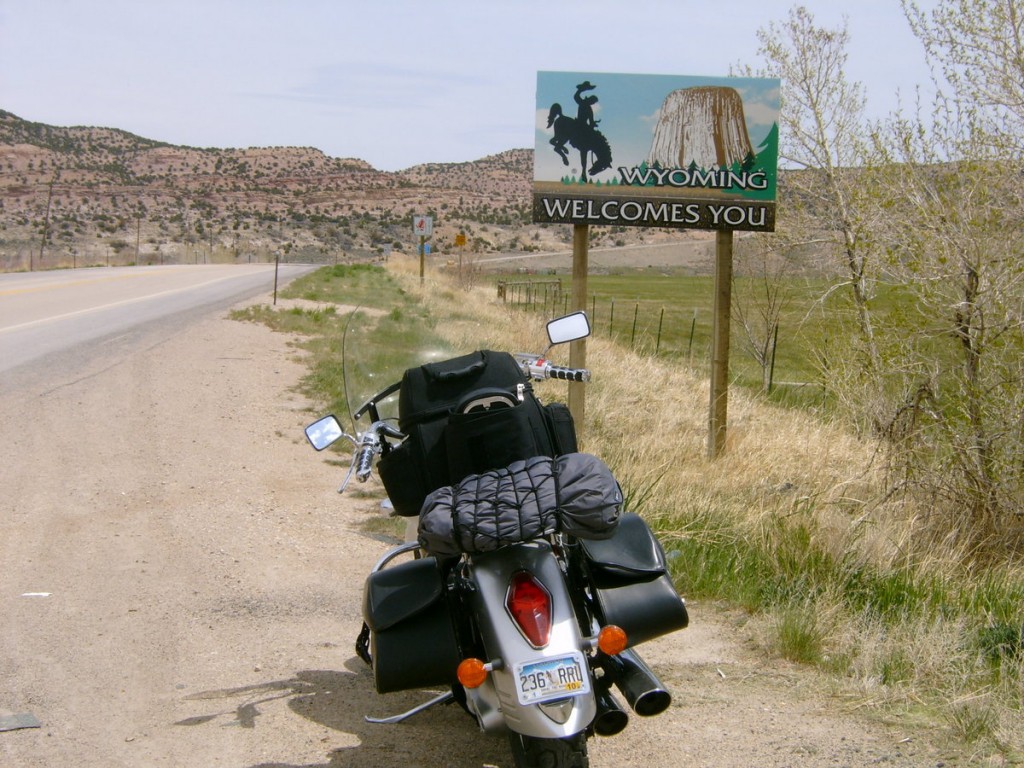 The road from Manila to Rock Springs, Wyoming was without doubt the most desolate stretch of road I'd been on to that point. The scenery looked like the photos from the Mars Rover, there was a strong crosswind, it was cold, and there was absolutely no traffic. The road was smooth, but every so often I saw buzzards circling over – what, a cow carcass? A foolish motorcycle rider? Needless to say, I was very happy to get to Rock Springs.
Headed west on the "superslab" (I-80) to Little America; got more gas and then pretty soon left the endless parade of triple truck trains for US 30. Very forgettable part of the trip. I was looking on the Google Streetview and don't really remember much about it.
J.C. Penney's first store was in Kemmerer, Wyoming. I thought it might be worth a visit.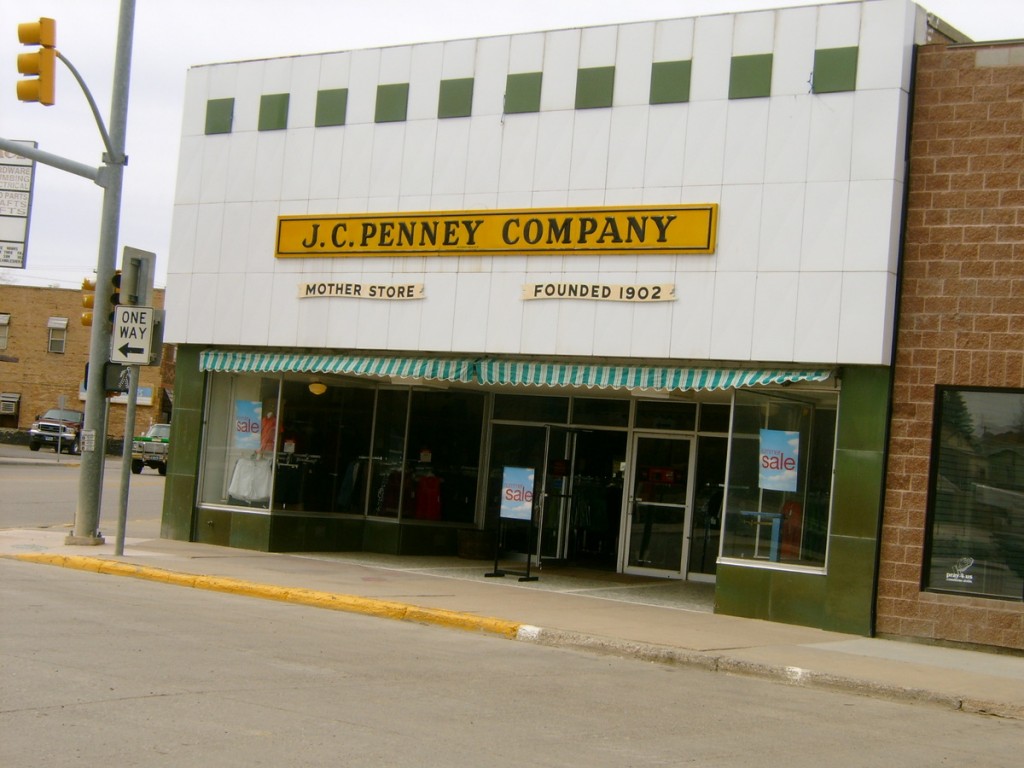 It wasn't. Other than the sign outside, it was just a small Penney's store. I would have thought that they would put a small museum or something to commemorate the history of the place, but they didn't. Too bad.
Mistake #1: I took the Park Service old person's free pass and intended to stop at every national park and national monument along the way; because I thought I had to hurry, I passed by Fossil Butte National Monument.
As I approached the turnoff to Idaho, the weather improved, and the traffic picked up.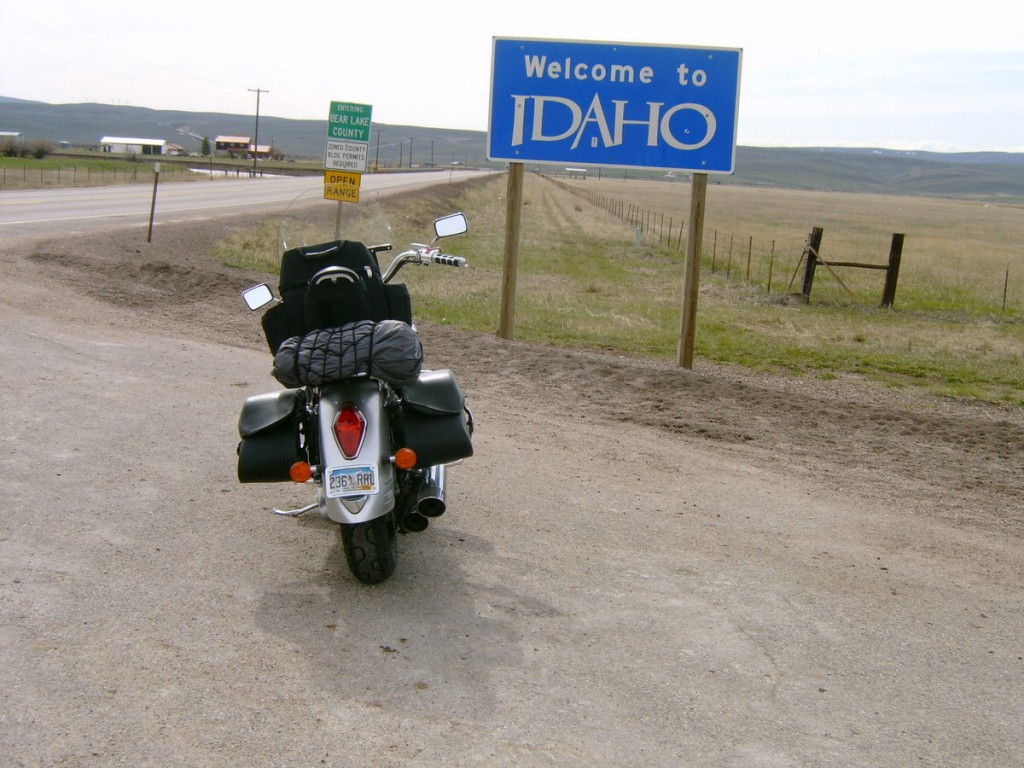 Third state in one day. As I left Wyoming, I passed up a last chance to stock up on some M-80's.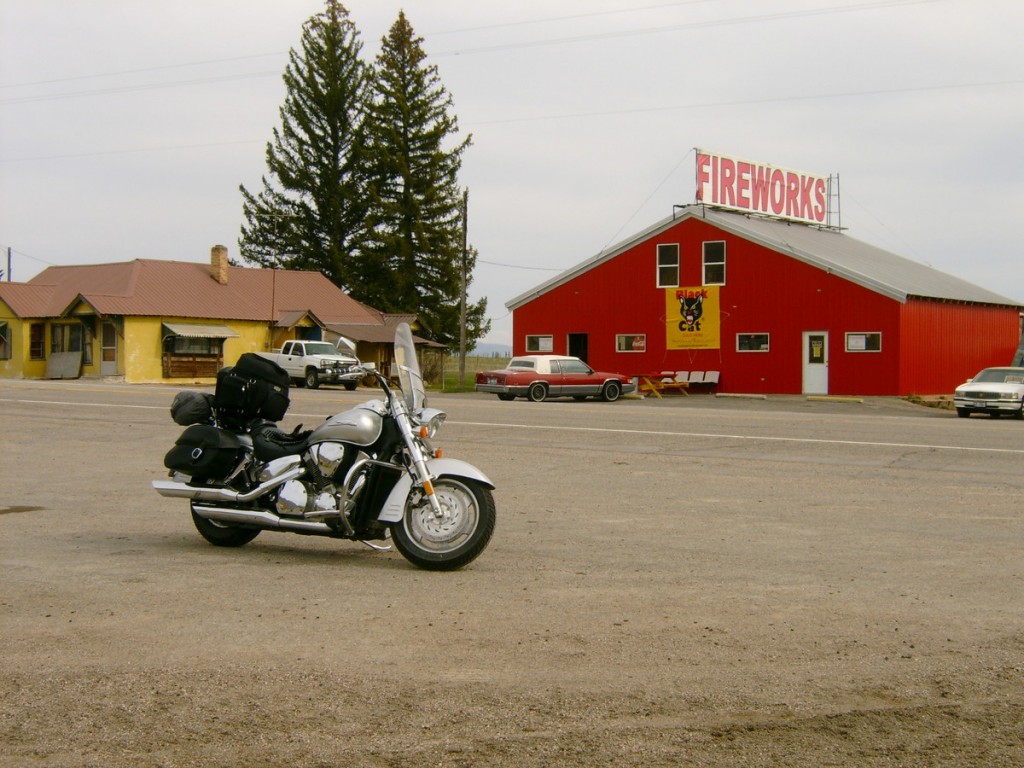 The road sign was built in 1940 to mark the 50th anniversary of Idaho's admission to the union.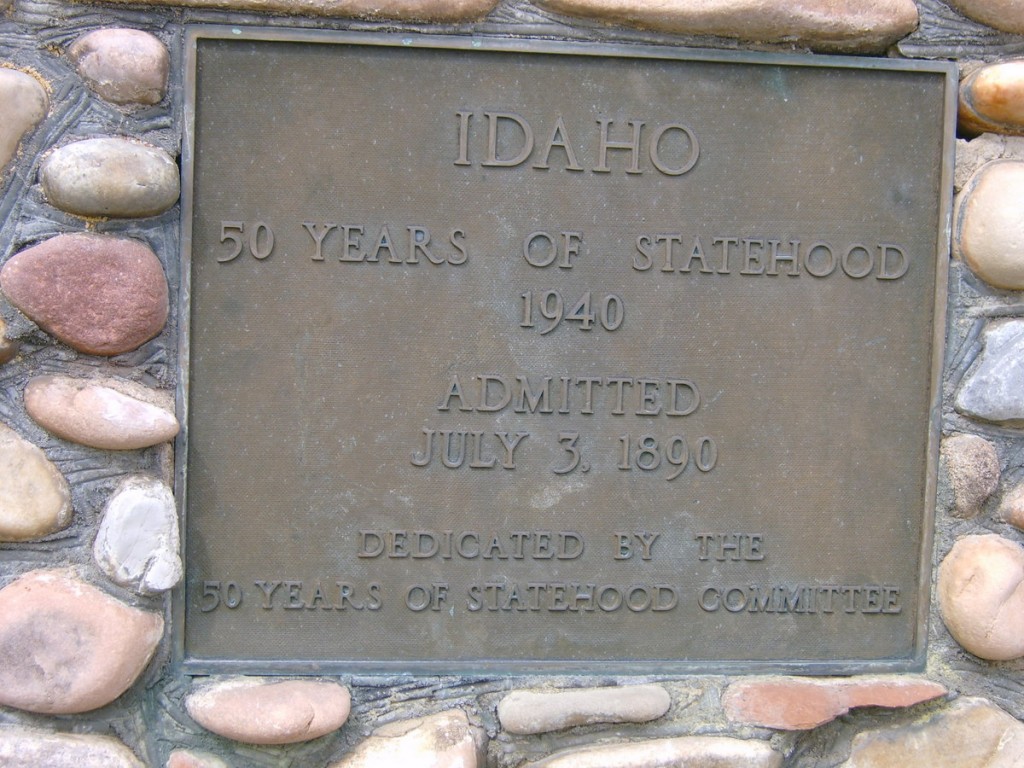 I like these sort of signs. They're much more interesting than the bland ones you see now.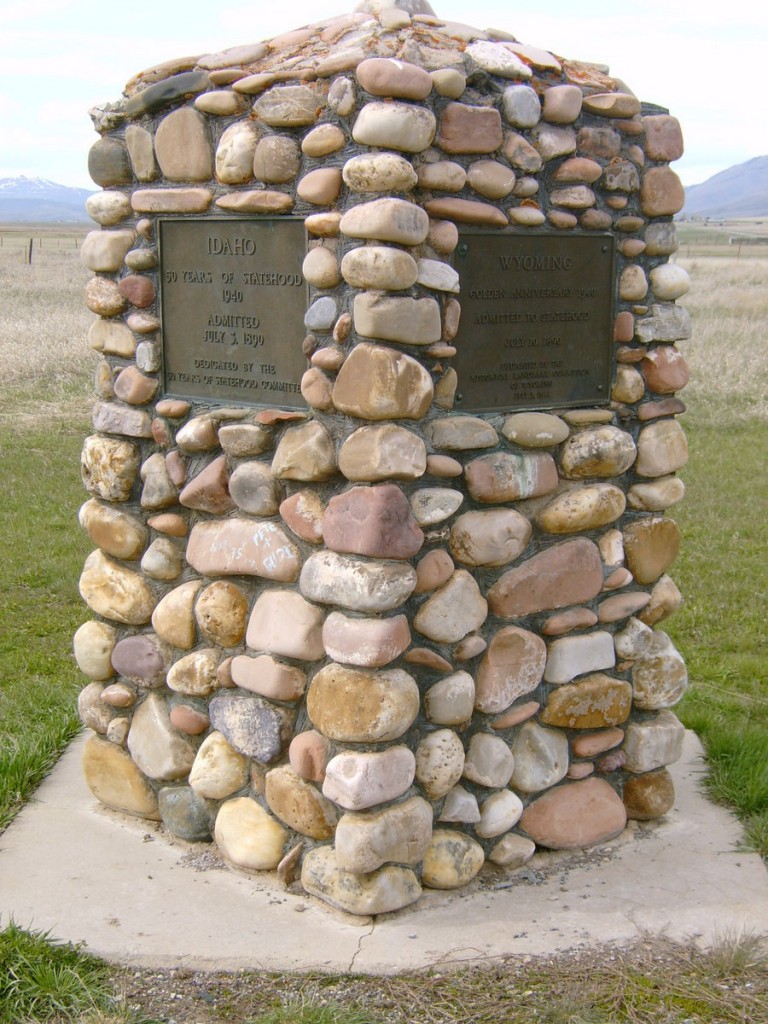 I should have stopped just about here. But I had made reservations at a motel in Lava Hot Springs. The route took me on the same road that Cathy and I had ridden in the Idaho Bicycle Tour some years earlier, although in reverse, from Montpelier to Soda Springs. For some reason, I remembered all of the rest stops, and a really strange high school in the middle of nowhere. It was getting late, and I was very glad when I got to Lava Hot Springs and the beautiful Alpaca Inn.  This was the first time I'd made a reservation based upon the reviews in Trip Advisor, and I wasn't disappointed.  It's an old motel off the beaten path that was meticulously restored and is beautiful inside and out.  I gave it a very favorable Trip Advisor review.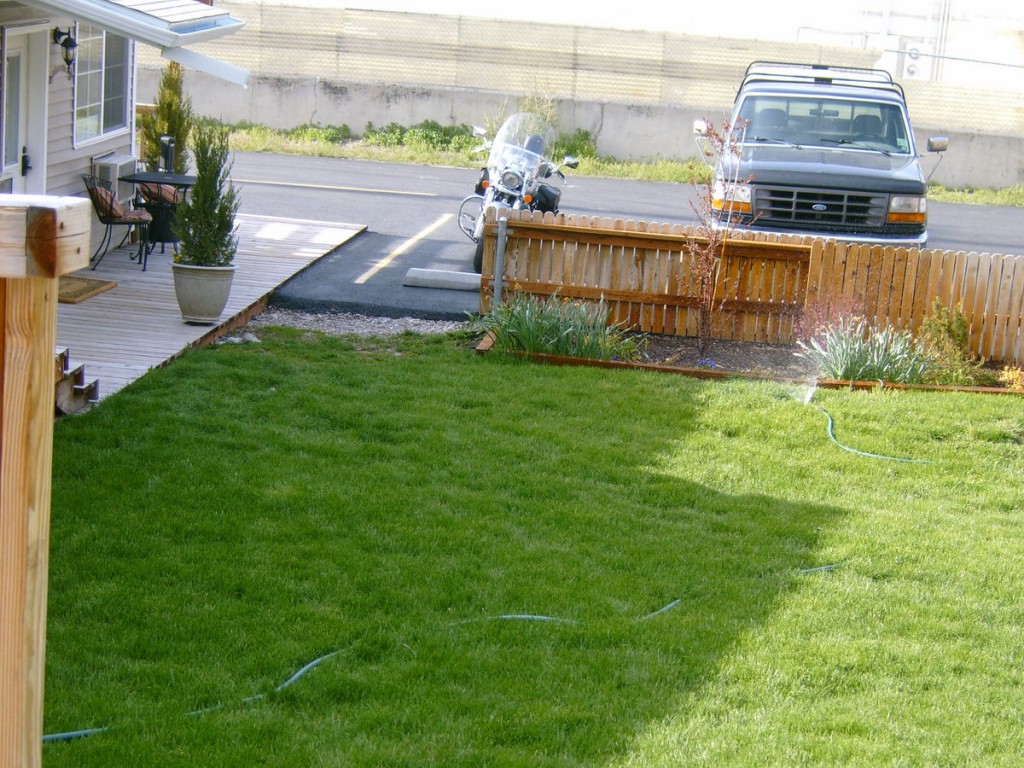 The two ladies who had restored it were very pleasant, more so after I took off my helmet and revealed the balding white hair. The only other guest was some sort of construction worker in a pickup truck. Their restoration included a cool playground. I'd like to come back.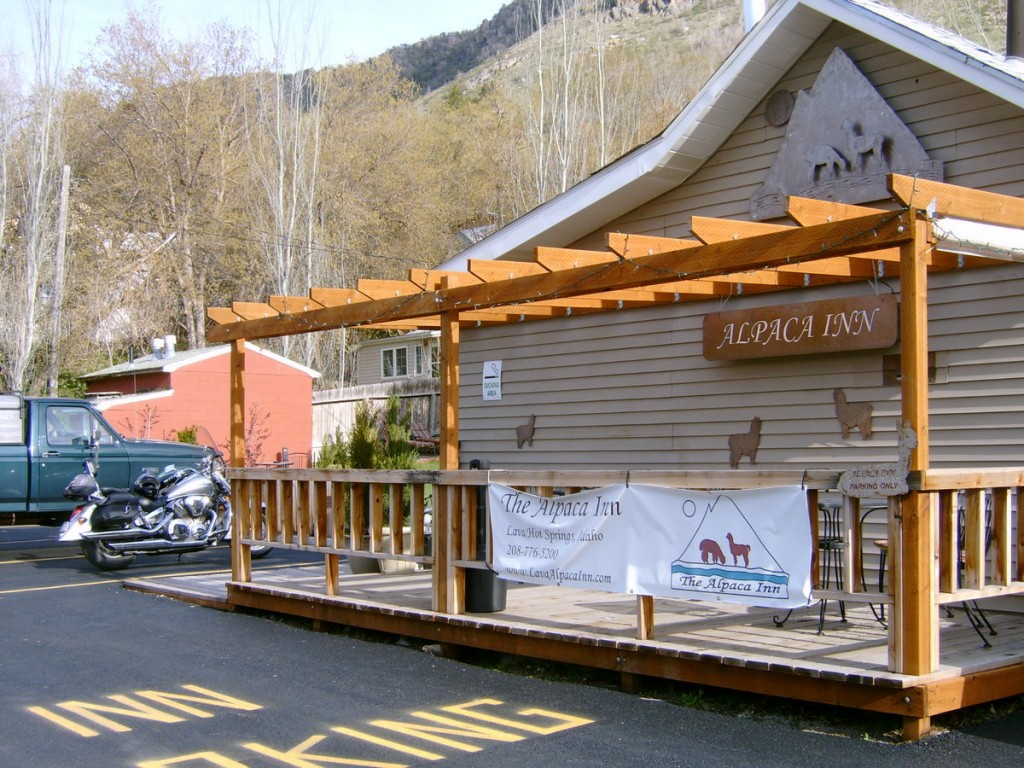 Lava Hot Springs is one of those places time forgot; it was popular 90 years ago as a mineral bath cure for folks from Pocatello and Salt Lake City; when the Interstate and medical science passed it by, nothing changed. There are several places to take the cure, but I avoided them all. It's a charming little town.