In 1982, I bought a mantel clock kit as a Christmas present for everyone.  It was a pleasure to assemble, and you all know what it looks and sounds like.   It originally came with a mechanical movement (from the Emperor Clock Company) which struck four chime bars along the bottom.
After about ten years, the spring broke.  I sent it back in to be repaired.  Then seven or so years later the repaired spring broke again, so I ordered a quartz electronic clock movement (this time from Klockit) which sounded different but worked flawlessly … until Sunday.  Daylight Savings Time ended, and guess who forgot the instructions about never, never turning the clock backwards?  It stripped the nylon threads so the time was perpetually frozen at 4:20.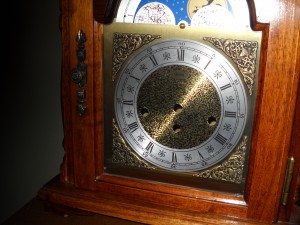 Fortunately, Klockit still has electronic movements, and I ordered one which should arrive shortly.
Please remember never turn the clock backwards in November!
[UPDATE] New electronic movement installed and it works just fine.