While in Cheyenne, we had lunch at the justly famous Luxury Diner.  Perfectly healthy and Nephew Brian the Vegan Approved … not!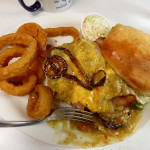 and we visit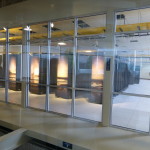 ed the brand new Wyoming Supercomputer, which is the 15th most powerful computer in the world, and is used to research weather and climate change.  This is deeply ironic, because earlier this year the luddite (Republican) Wyoming legislature passed a law forbidding  the teaching of climate change.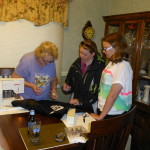 Georgia, Paula and Marie worked long and hard to properly center the patches on my new leather motorcyle vest so that I could properly display the logo of our version of the Wild Hogs.
The results were worth the effort: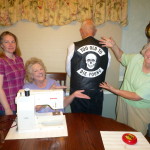 Leaving Cheyenne, I cruised home some 360 miles along the scenic route through Walden, Kremmling and Eagle.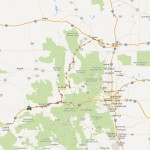 Spring was good to southern Wyoming and northern Colorado; the prairie was emerald green, the streams were alternately bubbling and roaring, and the beaver dams bank full of water.   The sheep and cattle looked satisfied, and there were a lot of prairie dogs and bunny rabbits hopping back and forth on the roadway in front of me. A few of them had become roadkill.
I was startled on my ride up Gore Pass to be approached by five alien creatures who were dressed in head to foot in Lycra body suits, screaming downhill on their skateboards. One wore a complete Spiderman outfit, another a black Batman body suit … complete with winged helmet and cape.  I am glad they were young and sure of themselves, because the Lycra wouldn't help much with road rash if they'd fallen.   It happened so quickly that I couldn't stop and get out my phone for a picture…
The Ride the Rockies bike tour had passed this way a day before on a stretch from Steamboat Springs to Avon; the road from Toponas to Wolcott still bore the orange spray painted tour markings and warnings.